Macro Lens
Macro lenses are mainly used for close-up focusing, and designed for small fields of view. Macro lenses provide a sharper, less distorted image than zoom lenses.
1Vision's selection of Macro lenses includes Machine Vision, Megapixel lens, fixed focal lens, and Line Sensor Lens.
Let us help you find the macro lens you need!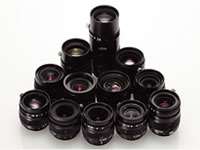 Macro Lens Products
| | Part # | Description | CATEGORY | SUB CATEGORY | Sensor Format | MANUFACTURER | Datasheet | Mount | Weight[g] | F# | MOD | Focus_Type | Iris_Type | Focal_Length | Zoom_Type | Opt. Mag. | DRAWING |
| --- | --- | --- | --- | --- | --- | --- | --- | --- | --- | --- | --- | --- | --- | --- | --- | --- | --- |
| | VS-MC024 | Specifically designed for vibration resistance the VS-MC series' internal components are tightly packed and a unique locking mechanism is in place to keep the view in focus even under the harshest conditions. | Optics | Macro Lens-sub | 2/3สบ | VS | Download | C | | 4 to 4.8 | 213.3mm to 121.2mm | Manual | Manual | | Manual | 0.25 to 0.5 | |
| | VS-MC024S | Specifically designed for vibration resistance the VS-MC series' internal components are tightly packed and a unique locking mechanism is in place to keep the view in focus even under the harshest conditions. | Optics | Macro Lens-sub | 2/3สบ | VS | Download | C | | 4 to 4.8 | 210.4mm to 118.3mm | Manual | Manual | | Manual | 0.25 to 0.5 | Download |
| | VS-MC0510 | Specifically designed for vibration resistance the VS-MC series' internal components are tightly packed and a unique locking mechanism is in place to keep the view in focus even under the harshest conditions. | Optics | Macro Lens-sub | 2/3สบ | VS | Download | C | | 4.8 to 6.4 | 121.3 to 75.2mm | Manual | Manual | | Manual | 0.5 to 1.0 | Download |
| | VS-MC0510S | Specifically designed for vibration resistance the VS-MC series' internal components are tightly packed and a unique locking mechanism is in place to keep the view in focus even under the harshest conditions. | Optics | Macro Lens-sub | 2/3สบ | VS | Download | C | | 4.8 to 6.4 | 118.4 to 72.3mm | Manual | Manual | | Manual | 0.5 to 1.0 | Download |
| | VS-MC0510-1 | Specifically designed for vibration resistance the VS-MC series' internal components are tightly packed and a unique locking mechanism is in place to keep the view in focus even under the harshest conditions. | Optics | Macro Lens-sub | 1/2สบ | VS | Download | C | | 48.4 to 64.1 | 121.3 to 75.2 | Manual | Manual | | Manual | 0.5 to 1.0 | |
| | VS-MC0510-2 | Specifically designed for vibration resistance the VS-MC series' internal components are tightly packed and a unique locking mechanism is in place to keep the view in focus even under the harshest conditions. | Optics | Macro Lens-sub | 1/2สบ | VS | Download | C | | 24.2 to 32 | 121.3 to 75.2 | Manual | Manual | | Manual | 0.5 to 1.0 | |
| | VS-MC0510-3 | Specifically designed for vibration resistance the VS-MC series' internal components are tightly packed and a unique locking mechanism is in place to keep the view in focus even under the harshest conditions. | Optics | Macro Lens-sub | 1/2สบ | VS | Download | C | | 16.1 to 21.3 | 121.3 to 75.2 | Manual | Manual | | Manual | 0.5 to 1.0 | |
| | VS-MC0510-4 | Specifically designed for vibration resistance the VS-MC series' internal components are tightly packed and a unique locking mechanism is in place to keep the view in focus even under the harshest conditions. | Optics | Macro Lens-sub | 1/2สบ | VS | Download | C | | 12.1 to 16 | 121.3 to 75.2 | Manual | Manual | | Manual | 0.5 to 1.0 | |
| | VS-MC0510-5 | Specifically designed for vibration resistance the VS-MC series' internal components are tightly packed and a unique locking mechanism is in place to keep the view in focus even under the harshest conditions. | Optics | Macro Lens-sub | 1/2สบ | VS | Download | C | | 9.6 to 12.1 | 121.3 to 75.2 | Manual | Manual | | Manual | 0.5 to 1.0 | |
| | VS-MC0510-6 | Specifically designed for vibration resistance the VS-MC series' internal components are tightly packed and a unique locking mechanism is in place to keep the view in focus even under the harshest conditions. | Optics | Macro Lens-sub | 1/2สบ | VS | Download | C | | 8 to 10 | 121.3 to 75.2 | Manual | Manual | | Manual | 0.5 to 1.0 | |
| | VS-MC0510-7 | Specifically designed for vibration resistance the VS-MC series' internal components are tightly packed and a unique locking mechanism is in place to keep the view in focus even under the harshest conditions. | Optics | Macro Lens-sub | 1/2สบ | VS | Download | C | | 6.9 to 9.1 | 121.3 to 75.2 | Manual | Manual | | Manual | 0.5 to 1.0 | |
| | VS-MC0510-8 | Specifically designed for vibration resistance the VS-MC series' internal components are tightly packed and a unique locking mechanism is in place to keep the view in focus even under the harshest conditions. | Optics | Macro Lens-sub | 1/2สบ | VS | Download | C | | 6 to 8 | 121.3 to 75.2 | Manual | Manual | | Manual | 0.5 to 1.0 | |
| | VS-MC0510-9 | Specifically designed for vibration resistance the VS-MC series' internal components are tightly packed and a unique locking mechanism is in place to keep the view in focus even under the harshest conditions. | Optics | Macro Lens-sub | 1/2สบ | VS | Download | C | | 5.3 to 7.1 | 121.3 to 75.2 | Manual | Manual | | Manual | 0.5 to 1.0 | |
| | VS-MC01-330 | Specifically designed for vibration resistance the VS-MC series' internal components are tightly packed and a unique locking mechanism is in place to keep the view in focus even under the harshest conditions. | Optics | Macro Lens-sub | 2/3สบ | VS | Download | C | | 4.43 | 325.5mm | Manual | Manual | | Manual | 0.1 | Download |
| | VS-MC03-100 | Specifically designed for vibration resistance the VS-MC series' internal components are tightly packed and a unique locking mechanism is in place to keep the view in focus even under the harshest conditions. | Optics | Macro Lens-sub | 2/3สบ | VS | Download | C | | 5.16 | 105.8 | Manual | Manual | | Manual | 0.3 | Download |
| | VS-MC03-135 | Specifically designed for vibration resistance the VS-MC series' internal components are tightly packed and a unique locking mechanism is in place to keep the view in focus even under the harshest conditions. | Optics | Macro Lens-sub | 2/3สบ | VS | Download | C | | 5.27 | 138.7 | Manual | Manual | | Manual | 0.3 | Download |
| | VS-MC03-180 | Specifically designed for vibration resistance the VS-MC series' internal components are tightly packed and a unique locking mechanism is in place to keep the view in focus even under the harshest conditions. | Optics | Macro Lens-sub | 2/3สบ | VS | Download | C | | 5.29 | 184.8mm | Manual | Manual | | Manual | 0.3 | Download |
| | VS-MC05-65 | Specifically designed for vibration resistance the VS-MC series' internal components are tightly packed and a unique locking mechanism is in place to keep the view in focus even under the harshest conditions. | Optics | Macro Lens-sub | 2/3สบ | VS | Download | C | | 5.95 | 121.6 | Manual | Manual | | Manual | 0.5 | Download |
| | VS-MC05-90 | Specifically designed for vibration resistance the VS-MC series' internal components are tightly packed and a unique locking mechanism is in place to keep the view in focus even under the harshest conditions. | Optics | Macro Lens-sub | 2/3สบ | VS | Download | C | | 6.08 | 93.8 | Manual | Manual | | Manual | 0.5 | Download |
| | VS-MC05-130 | Specifically designed for vibration resistance the VS-MC series' internal components are tightly packed and a unique locking mechanism is in place to keep the view in focus even under the harshest conditions. | Optics | Macro Lens-sub | 2/3สบ | VS | Download | C | | 6.11 | 126.3mm | Manual | Manual | | Manual | 0.5 | Download |
| | VS-MC075-50 | Specifically designed for vibration resistance the VS-MC series' internal components are tightly packed and a unique locking mechanism is in place to keep the view in focus even under the harshest conditions. | Optics | Macro Lens-sub | 2/3สบ | VS | Download | C | | 5.75 | 50.8mm | Manual | Manual | | Manual | 0.75 | Download |
| | VS-MC075-70 | Specifically designed for vibration resistance the VS-MC series' internal components are tightly packed and a unique locking mechanism is in place to keep the view in focus even under the harshest conditions. | Optics | Macro Lens-sub | 2/3สบ | VS | Download | C | | 6.8 | 71.3mm | Manual | Manual | | Manual | 0.75 | Download |
| | VS-MC075-100 | Specifically designed for vibration resistance the VS-MC series' internal components are tightly packed and a unique locking mechanism is in place to keep the view in focus even under the harshest conditions. | Optics | Macro Lens-sub | 2/3สบ | VS | Download | C | | 9.17 | 97mm | Manual | Manual | | Manual | 0.75 | Download |
| | VS-MC1-40 | Specifically designed for vibration resistance the VS-MC series' internal components are tightly packed and a unique locking mechanism is in place to keep the view in focus even under the harshest conditions. | Optics | Macro Lens-sub | 2/3สบ | VS | Download | C | | 6.58 | 41.7mm | Manual | Manual | | Manual | 1 | Download |
| | VS-MC1-60 | Specifically designed for vibration resistance the VS-MC series' internal components are tightly packed and a unique locking mechanism is in place to keep the view in focus even under the harshest conditions. | Optics | Macro Lens-sub | 2/3สบ | VS | Download | C | | 7.8 | 60.1mm | Manual | Manual | | Manual | 1 | Download |
| | VS-MC1-80 | Specifically designed for vibration resistance the VS-MC series' internal components are tightly packed and a unique locking mechanism is in place to keep the view in focus even under the harshest conditions. | Optics | Macro Lens-sub | 2/3สบ | VS | Download | C | | 8.14 | 82.4mm | Manual | Manual | | Manual | 1 | Download |
| | VS-MC1.5-65 | Specifically designed for vibration resistance the VS-MC series' internal components are tightly packed and a unique locking mechanism is in place to keep the view in focus even under the harshest conditions. | Optics | Macro Lens-sub | 2/3สบ | VS | Download | C | | 10 | 64.8mm | Manual | Manual | | Manual | 1.5 | Download |
| | VS-MC2-60 | Specifically designed for vibration resistance the VS-MC series' internal components are tightly packed and a unique locking mechanism is in place to keep the view in focus even under the harshest conditions. | Optics | Macro Lens-sub | 2/3สบ | VS | Download | C | | 12.1 | 57.5mm | Manual | Manual | | Manual | 2 | Download |
| | VS-MC1375 | Specifically designed for vibration resistance the VS-MC series' internal components are tightly packed and a unique locking mechanism is in place to keep the view in focus even under the harshest conditions. | Optics | Macro Lens-sub | 1/6สบ | VS | Download | C | | 14.7 | 21.8 | Manual | Manual | | Manual | 1.375 | Download |
| | VS-MC1375-40 | Specifically designed for vibration resistance the VS-MC series' internal components are tightly packed and a unique locking mechanism is in place to keep the view in focus even under the harshest conditions. | Optics | Macro Lens-sub | 1/6สบ | VS | Download | C | | 7.44 to 11.00 | 43.5 to 39.8 | Manual | Manual | | Manual | 0.85 to 1.375 | Download |
| | VS-MC0576 | Specifically designed for vibration resistance the VS-MC series' internal components are tightly packed and a unique locking mechanism is in place to keep the view in focus even under the harshest conditions. | Optics | Macro Lens-sub | 1/6สบ | VS | Download | C | | 9.53 to 7.57 | 56.6 to 30.7 | Manual | Manual | | Manual | 0.365 to 0.85 | Download |
| | VS-MC00303NS-UV | Specifically designed for vibration resistance the VS-MC series' internal components are tightly packed and a unique locking mechanism is in place to keep the view in focus even under the harshest conditions. | Optics | Macro Lens-sub | 2/3สบ | VS | Download | C | | 4.8 to 21.3 | 520.1 to 38.1 | Manual | Manual | 16 | Manual | 0.03 to 0.3 | Download |
| | VS-MC0510S-UV | Specifically designed for vibration resistance the VS-MC series' internal components are tightly packed and a unique locking mechanism is in place to keep the view in focus even under the harshest conditions. | Optics | Macro Lens-sub | 2/3สบ | VS | Download | C | | 4.8 to 6.4 | 134.1 to 88.1 | Manual | Manual | | Manual | 0.5 to 1.0 | Download |
| | VS-MC2-65UV365 | Specifically designed for vibration resistance the VS-MC series' internal components are tightly packed and a unique locking mechanism is in place to keep the view in focus even under the harshest conditions. | Optics | Macro Lens-sub | 1/2สบ | VS | Download | C | | 9.4 | 64 | Manual | Manual | | Manual | 2 | Download |
| | VS-MC3-65UV365 | Specifically designed for vibration resistance the VS-MC series' internal components are tightly packed and a unique locking mechanism is in place to keep the view in focus even under the harshest conditions. | Optics | Macro Lens-sub | 1/2สบ | VS | Download | C | | 9.7 | 65.3 | Manual | Manual | | Manual | 3 | Download |
| | VS-MC01303IR | Specifically designed for vibration resistance the VS-MC series' internal components are tightly packed and a unique locking mechanism is in place to keep the view in focus even under the harshest conditions. | Optics | Macro Lens-sub | 22mm | VS | Download | C | | 4 to 4.6 | 175 to 78.2 | Manual | Manual | | Manual | 0.131 to 0.3 | Download |
| | VS-MC0510IR | Specifically designed for vibration resistance the VS-MC series' internal components are tightly packed and a unique locking mechanism is in place to keep the view in focus even under the harshest conditions. | Optics | Macro Lens-sub | 2/3สบ | VS | Download | C | | 4.8 to 6.4 | 126.3 to 80.4 | Manual | Manual | | Manual | 0.5 to 1.0 | Download |
| | VS-LLD10 | The VS-LLD series' distortionless design, in combination with a Floating System of internal lens elements, allows it to deliver high resolution performance at any magnification. With a maximum sensor size of up to 4/3" it is a great selection to use for any application using a large sensor format that needs a distortionless image. | Optics | Macro Lens-sub | 4/3สบ | VS | Download | C | 450 | 2.8 | | Manual | Manual | 10 | Manual | | Download |
| | VS-LLD12.5 | The VS-LLD series' distortionless design, in combination with a Floating System of internal lens elements, allows it to deliver high resolution performance at any magnification. With a maximum sensor size of up to 4/3" it is a great selection to use for any application using a large sensor format that needs a distortionless image. | Optics | Macro Lens-sub | 4/3สบ | VS | Download | C | 380g | 2 | 40.9 | Manual | Manual | 12.5 | Manual | 0.05 to 0.25 | Download |
| | VS-LLD15 | The VS-LLD series' distortionless design, in combination with a Floating System of internal lens elements, allows it to deliver high resolution performance at any magnification. With a maximum sensor size of up to 4/3" it is a great selection to use for any application using a large sensor format that needs a distortionless image. | Optics | Macro Lens-sub | 4/3สบ | VS | Download | C | | 2 | | Manual | Manual | 15 | Manual | | Download |
| | VS-LLD18 | The VS-LLD series' distortionless design, in combination with a Floating System of internal lens elements, allows it to deliver high resolution performance at any magnification. With a maximum sensor size of up to 4/3" it is a great selection to use for any application using a large sensor format that needs a distortionless image. | Optics | Macro Lens-sub | 4/3สบ | VS | Download | C | 320g | 2 | 53.8 | Manual | Manual | 18 | Manual | 0.05 to 0.25 | Download |
| | VS-LLD20 | The VS-LLD series' distortionless design, in combination with a Floating System of internal lens elements, allows it to deliver high resolution performance at any magnification. With a maximum sensor size of up to 4/3" it is a great selection to use for any application using a large sensor format that needs a distortionless image. | Optics | Macro Lens-sub | 4/3สบ | VS | Download | C | 320g | 2 | 61.8 | Manual | Manual | 20 | Manual | 0.05 to 0.25 | Download |
| | VS-LLD25 | The VS-LLD series' distortionless design, in combination with a Floating System of internal lens elements, allows it to deliver high resolution performance at any magnification. With a maximum sensor size of up to 4/3" it is a great selection to use for any application using a large sensor format that needs a distortionless image. | Optics | Macro Lens-sub | 4/3สบ | VS | Download | C | 290g | 2 | 66 | Manual | Manual | 25 | Manual | 0.05 to 0.3 | Download |
| | VS-LLD30 | The VS-LLD series' distortionless design, in combination with a Floating System of internal lens elements, allows it to deliver high resolution performance at any magnification. With a maximum sensor size of up to 4/3" it is a great selection to use for any application using a large sensor format that needs a distortionless image. | Optics | Macro Lens-sub | 4/3สบ | VS | Download | C | | 2 | | Manual | Manual | 30 | Manual | | Download |
| | VS-LLD35 | The VS-LLD series' distortionless design, in combination with a Floating System of internal lens elements, allows it to deliver high resolution performance at any magnification. With a maximum sensor size of up to 4/3" it is a great selection to use for any application using a large sensor format that needs a distortionless image. | Optics | Macro Lens-sub | 4/3สบ | VS | Download | C | 300g | 2 | 129.5 | Manual | Manual | 35 | Manual | 0.05 to 0.3 | Download |
| | VS-LLD50 | The VS-LLD series' distortionless design, in combination with a Floating System of internal lens elements, allows it to deliver high resolution performance at any magnification. With a maximum sensor size of up to 4/3" it is a great selection to use for any application using a large sensor format that needs a distortionless image. | Optics | Macro Lens-sub | 4/3สบ | VS | Download | C | 250g | 2 | 205.4 | Manual | Manual | 50 | Manual | 0.05 to 0.3 | Download |
| | VS-LDA4 | The VS-LDA series generates a low distortion image, even when using extension tubes, by using a large number of lens shifts. Its design allows for the support of a wide range of magnification, WD, and DOF | Optics | Macro Lens-sub | 1/2สบ | VS | Download | C | 49g | 2.1 | 92.7 | Manual | Manual | 4 | | 0.01 to 0.04 | Download |
| | VS-LDA6.5 | The VS-LDA series generates a low distortion image, even when using extension tubes, by using a large number of lens shifts. Its design allows for the support of a wide range of magnification, WD, and DOF | Optics | Macro Lens-sub | 1/2สบ | VS | Download | C | 40g | 2.3 | 95.2 | | | 6.5 | | 0.01 to 0.06 | Download |
| | VS-LDA10 | The VS-LDA series generates a low distortion image, even when using extension tubes, by using a large number of lens shifts. Its design allows for the support of a wide range of magnification, WD, and DOF | Optics | Macro Lens-sub | 1/2สบ | VS | Download | C | 42g | 2.3 | 91 | | | 10 | | 0.03 to 0.10 | Download |
| | VS-LDA15 | The VS-LDA series generates a low distortion image, even when using extension tubes, by using a large number of lens shifts. Its design allows for the support of a wide range of magnification, WD, and DOF | Optics | Macro Lens-sub | 2/3สบ | VS | Download | C | 46g | 2.1 | 88.9 | | | 15 | | 0.03 to 0.15 | Download |
| | VS-LDA20 | The VS-LDA series generates a low distortion image, even when using extension tubes, by using a large number of lens shifts. Its design allows for the support of a wide range of magnification, WD, and DOF | Optics | Macro Lens-sub | 2/3สบ | VS | Download | C | 47g | 2.1 | 86.6 | | | 20 | | 0.04 to 0.22 | Download |
| | VS-LDA25 | The VS-LDA series generates a low distortion image, even when using extension tubes, by using a large number of lens shifts. Its design allows for the support of a wide range of magnification, WD, and DOF | Optics | Macro Lens-sub | 2/3สบ | VS | Download | C | 49g | 2.1 | 100.2 | | | 25 | | 0.05 to 0.25 | Download |
| | VS-LDA30 | The VS-LDA series generates a low distortion image, even when using extension tubes, by using a large number of lens shifts. Its design allows for the support of a wide range of magnification, WD, and DOF | Optics | Macro Lens-sub | 2/3สบ | VS | Download | C | 47g | 2.4 | 141.5 | | | 30 | | 0.08 to 0.23 | Download |
| | VS-LDA35 | The VS-LDA series generates a low distortion image, even when using extension tubes, by using a large number of lens shifts. Its design allows for the support of a wide range of magnification, WD, and DOF | Optics | Macro Lens-sub | 2/3สบ | VS | Download | C | 58g | 2.5 | 96.1 | | | 35 | | 0.3 to 0.5 | Download |
| | VS-LDA50 | The VS-LDA series generates a low distortion image, even when using extension tubes, by using a large number of lens shifts. Its design allows for the support of a wide range of magnification, WD, and DOF | Optics | Macro Lens-sub | 2/3สบ | VS | Download | C | 76g | 2.7 | 221.5 | | | 50 | | 0.1 to 0.25 | Download |
| | VS-LDA75 | The VS-LDA series generates a low distortion image, even when using extension tubes, by using a large number of lens shifts. Its design allows for the support of a wide range of magnification, WD, and DOF | Optics | Macro Lens-sub | 2/3สบ | VS | Download | C | 92g | 4.1 | 245.6 | | | 75 | | 0.15 to 0.35 | Download |
| | VS-MCA4 | The VS-MCA series is especially designed to stay in focus regardless of vibration or shock. With a fixed iris and a screw lock mechanism it is able to not only deliver a high quality image, but also maintain it though out the vision systems use. | Optics | Macro Lens-sub | 1/2สบ | VS | Download | C | 44g | 2 | 92.7 | | | 4 | | 0.01 to 0.04 | Download |
| | VS-MCA6.5 | The VS-MCA series is especially designed to stay in focus regardless of vibration or shock. With a fixed iris and a screw lock mechanism it is able to not only deliver a high quality image, but also maintain it though out the vision systems use. | Optics | Macro Lens-sub | 1/2สบ | VS | Download | C | 36g | 2 | 98 | | | 6.4 | | 0.01 to 0.06 | Download |
| | VS-MCA10 | The VS-MCA series is especially designed to stay in focus regardless of vibration or shock. With a fixed iris and a screw lock mechanism it is able to not only deliver a high quality image, but also maintain it though out the vision systems use. | Optics | Macro Lens-sub | 1/2สบ | VS | Download | C | 40g | 2 | 59.9 | | | 10 | | 0.02 to 0.15 | Download |
| | VS-MCA15 | The VS-MCA series is especially designed to stay in focus regardless of vibration or shock. With a fixed iris and a screw lock mechanism it is able to not only deliver a high quality image, but also maintain it though out the vision systems use. | Optics | Macro Lens-sub | 2/3สบ | VS | Download | C | 42g | 2 | 40.3 | | | 15 | | 0.03 to 0.3 | Download |
| | VS-MCA20 | The VS-MCA series is especially designed to stay in focus regardless of vibration or shock. With a fixed iris and a screw lock mechanism it is able to not only deliver a high quality image, but also maintain it though out the vision systems use. | Optics | Macro Lens-sub | 2/3สบ | VS | Download | C | 36g | 2 | 50.7 | | | 20 | | 0.04 to 0.4 | Download |
| | VS-MCA25 | The VS-MCA series is especially designed to stay in focus regardless of vibration or shock. With a fixed iris and a screw lock mechanism it is able to not only deliver a high quality image, but also maintain it though out the vision systems use. | Optics | Macro Lens-sub | 2/3สบ | VS | Download | C | 38g | 2 | 55.6 | | | 25 | | 0.05 to 0.5 | Download |
| | VS-MCA30 | The VS-MCA series is especially designed to stay in focus regardless of vibration or shock. With a fixed iris and a screw lock mechanism it is able to not only deliver a high quality image, but also maintain it though out the vision systems use. | Optics | Macro Lens-sub | 2/3สบ | VS | Download | C | 39g | 2 | 80.1 | | | 30 | | 0.06 to 0.45 | Download |
| | VS-MCA35 | The VS-MCA series is especially designed to stay in focus regardless of vibration or shock. With a fixed iris and a screw lock mechanism it is able to not only deliver a high quality image, but also maintain it though out the vision systems use. | Optics | Macro Lens-sub | 2/3สบ | VS | Download | C | 43g | 2 | 83.1 | | | 35 | | 0.26 to 0.65 | Download |
| | VS-MCA50 | The VS-MCA series is especially designed to stay in focus regardless of vibration or shock. With a fixed iris and a screw lock mechanism it is able to not only deliver a high quality image, but also maintain it though out the vision systems use. | Optics | Macro Lens-sub | 2/3สบ | VS | Download | C | 60g | 2 | 128.7 | | | 50 | | 0.08 to 0.48 | Download |
| | VS-MCA75 | The VS-MCA series is especially designed to stay in focus regardless of vibration or shock. With a fixed iris and a screw lock mechanism it is able to not only deliver a high quality image, but also maintain it though out the vision systems use. | Optics | Macro Lens-sub | 2/3สบ | VS | Download | C | 80g | 4 | 153.8 | | | 75 | | 0.14 to 0.62 | Download |